TheLotter.com
VISIT LOTTERY SITE
Players from Ukraine are accepted at the lottery site
Bonus Terms & Conditions
Buy one, get one free!
TheLotter.com Review
TheLotter.com has been our trusted lottery sales service for some time now. These are not online lottery games, theLotter purchases REAL lottery tickets for you (PowerBall, EuroMillions, and hundreds of local lotteries) ...

If you are interested in more information on "theLotter" we have a review posted in our lottery section (where we provide world lottery results) - How to buy lottery tickets online.
Lottery Site Gallery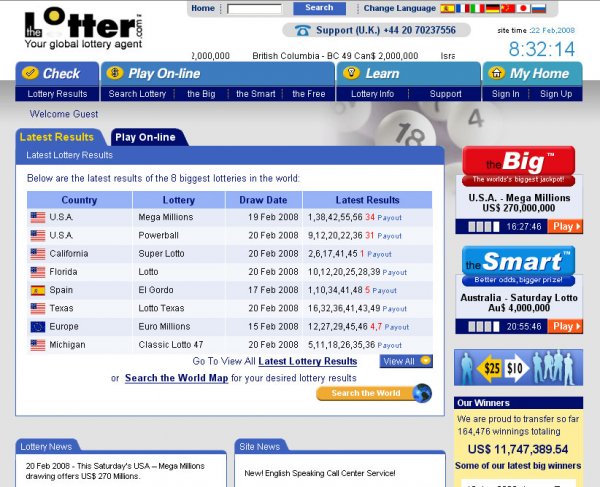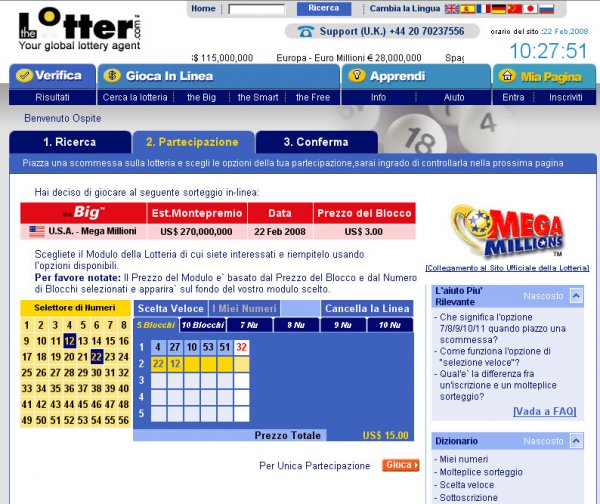 TheLotter.com Available Lottery Games
Game
Numbers
Next Draw
Jackpot
Tickets
5 12 20 21 47, Powerball: 1, Power Play: 2


(Aug 24 draw)

Aug 28

none

11 15 37 54 68, Mega Ball: 21, Megaplier: 2


(Aug 23 draw)

Aug 27

$ 90,000,000




(Aug 23 draw)

11 32 37 39 54, Cash Ball: 2


(Aug 22 draw)

Aug 26

$ 1,000/Day For Life!




(Aug 26 draw)

4 6 14 24 45, Mega Ball: 21


(Aug 24 draw)

Aug 28

$ 7,000,000




(Aug 24 draw)

8 10 33 36 38


(Aug 24 draw)

Aug 25

$ 183,000




(Aug 24 draw)

1 3 8 22 25 44, Xtra: 2


(Aug 22 draw)

Aug 26

$ 6,800,000




(Aug 26 draw)

6 10 25 32 42, Xtra: 3


(Aug 24 draw)

Aug 25

$ 100,000




(Aug 24 draw)

11 15 28 30 33 45


(Aug 24 draw)

Aug 26

$ 3,400,000




(Aug 24 draw)

3 7 8 14 20 24, Bonus: 31


(Aug 24 draw)

Aug 28

CA$ 5,000,000




(Aug 24 draw)

4 17 35 42 45, Lucky Stars: 2 8


(Aug 23 draw)

Aug 27

€ 108,000,000




(Aug 27 draw)

27 36 39 45 46 55, Bonus: 38


(Aug 24 draw)

Aug 28

£ 8,700,000




(Aug 28 draw)

7 24 36 46 52 55, Bonus: 3


(Aug 24 draw)

Aug 28

$ 9,200,000




(Aug 24 draw)

7 9 15 33 39, Thunderball: 13


(Aug 24 draw)

Aug 28

£ 500,000




(Aug 28 draw)

18 20 24 28 35 39, Bonus: 31


(Aug 24 draw)

Aug 25

€ 1,000,000




(Aug 25 draw)

1 13 15 16 32 36, Bonus: 12


(Aug 24 draw)

Aug 25

€ 1,000,000




(Aug 25 draw)

11 12 17 28 35 41, Bonus: 26


(Aug 24 draw)

Aug 28

CA$ 2,000,000




(Aug 28 draw)

5 19 27 30 34


(Aug 24 draw)

Aug 25

none

5 9 29 38 42 44, Superzahl: 1


(Aug 24 draw)

Aug 28

€ 7,000,000




(Aug 24 draw)

15 18 19 41 42, Bonus: 4 6


(Aug 23 draw)

Aug 30

€ 10,000,000




(Aug 30 draw)

7 13 22 27 34, Nº Clave: 4


(Aug 18 draw)

Aug 25

€ 5,400,000




(Aug 25 draw)

3 27 29 36 37 47, Complementario: 42, Reintegro: 7


(Aug 24 draw)

Aug 29

€ 12,300,000




(Aug 29 draw)

2 10 20 26 29 34, Vikingnumero: 7


(Aug 21 draw)

Aug 28

€ 4,300,000




(Aug 28 draw)

15 17 23 31 38, Numéros Chance: 4


(Aug 24 draw)

Aug 26

€ 2,000,000




(Aug 26 draw)

8 9 15 20 24, Powerball: 14


(Aug 23 draw)

Aug 27

R 5,000,000




(Aug 27 draw)

1 5 7 16 37 41 43, Supplementary: 10 20


(Aug 20 draw)

Aug 27

AU$ 10,000,000




(Aug 27 draw)

3 7 10 11 17 26, Powerball: 35


(Aug 22 draw)

Aug 29

AU$ 60,000,000




(Aug 29 draw)

4 9 10 11 32 33, Supplementary: 23 29


(Aug 24 draw)

Aug 31

AU$ 20,000,000




(Aug 31 draw)

31 35 36 40 44 45, Supplementary: 18 42


(Aug 21 draw)

Aug 26

AU$ 1,000,000




(Aug 26 draw)

1 12 24 42 65 67, Jolly: 39 21


(Aug 22 draw)

Aug 27

€ 52,800,000




(Aug 22 draw)

4 13 18 25 26 30, Bonus: 5


(Aug 24 draw)

Aug 28

CHF 2,700,000




(Aug 28 draw)

19 22 39 46 47 59


(Aug 24 draw)

Aug 28

R$ 42,000,000




(Aug 28 draw)

20 25 29 34 44 54, Adicional: 18


(Aug 21 draw)

Aug 25

MXN 59,600,000




(Aug 25 draw)

4 19 22 24 30


(Aug 20 draw)

Aug 27

none