Trillonario
VISIT LOTTERY SITE
Players from Ukraine are accepted at the lottery site
Bonus Terms & Conditions
Offering VIP Loyalty Points, Discounts, Refer a Friend bonus and more!
Trillonario Review
Trillonario is Legacy Eight's Latin American online lottery messenger service. For an English version please see our WinTrillions review of the largest site in the world. Players can choose their own games to play and choose the biggest jackpots from around the world. The company behind the site is Legacy Eight Curacao N.V. and payments are processed by a wholly owned subsidiary in Malta, where most reputable European online gaming sites are licensed.

Trillonario offers a large selection of lotteries from the US, Brazil, Spain, Italy and throughout Europe. Simply add funds to your account, choose the lottery you want to play, and pick the numbers or let the random number generator choose them for you. You can play the same numbers draw after draw with a subscription. Some games let you play every draw for an entire year with one easy purchase.

The US Powerball holds the world record for the biggest prize ever with $1.6 billion going to three winners in January 2016. But online players can choose from South American lotto games like Mega-Sena, or Australian Powerball, ten different European jackpots including La Primitiva, or North American lotteries like Powerball, California Superlotto, and many more. The site even lists the top five biggest jackpots ready to pop. Today it's EuroJackpot at 90 million euros, tomorrow it could be Mega Millions for even more!
What Is A Lottery Messenger Service?
Trillonario has agents in every country they supply games from. When you purchase your tickets they'll go right to a retail outlet and buy the tickets in person and then email ou the numbers. It costs a little more to play but you don't have to travel to buy your tickets! You can check your account online at any time. When you win they'll pay smaller prizes right into your online account which you can then cash out, or buy more subscriptions.

When you win a jackpot or other large prize they will either send you the ticket so you can make your own arrangements to collect, or the Winners Support Team will help you get your money. You can set up your account to send email alerts when you win and a representative will always phone personally if you hit the jackpot.
Can I increase my chances of winning?
If you've ever participated in an office pool or neighborhood lottery buying club you already know what a lottery syndicate is. On the website, you can join in with others to purchase multiple tickets together and even get in on a 'combination pack' with several different lotteries. Join a Power Combo Syndicate for about $36 per month for 110 separate chances to win on Mega Millions, US Powerball, and Italy's SuperEnalotto.

Of course, just like an office pool, your winnings will be shared with everyone in your syndicate, but it's a great way to play three of the world's biggest lotteries for about a dollar (or currency equivalent) a day for a whole month, or even an entire year!!
How to Sign Up and Play?
Simply click on the green button to visit the official website, add funds to your account with a debit or credit card (other methods may be available locally/regionally) and choose the jackpot game you want to play. Then you can pick your own numbers or use Quick Pick, and then choose the number of draws to enter using the handy drop-down menu. Add to Cart, enter a promo code if you have one, and proceed to check out - just like buying anything else online.

If you've chosen more games than you have the money or VIP credits for, you can always add more funds. They even accept bitcoin payments.

If you use an iPhone or iPad you can download from the App Store.

If you ever have any issues you can reach a customer service representative by email or with the online live chat feature.

Set up jackpot tracker or winning alerts, check your subscriptions, winnings, and loyalty points or your entire transaction history by accessing your account online or through the iOS app.
Pitfalls
Tickets cost more than they would if you walked into a store yourself. Multimillion and other large prizes might have to be collected in person or with the help of the Winners Support Team. Lotteries have relatively poor odds compared to some other gambling games that don't offer such big prizes.
The Final Word
The service makes it possible for people all over the world to play for the biggest jackpots and hunt the best odds on the planet. You can play with others to increase your chances of winning part of a jackpot or pick your own to win it all. A choice of about 20 of the world's biggest lotteries. Easy to set up an account and easy to play.

External Links
Youtube Site
Lottery Site Gallery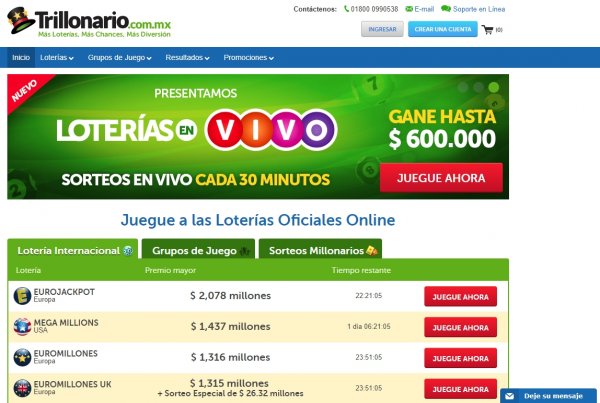 Trillonario Available Lottery Games
Game
Numbers
Next Draw
Jackpot
Tickets
14 19 39 47 51, Powerball: 15, Power Play: 3


(Sep 18 draw)

Sep 21

$ 80,000,000




(Sep 21 draw)

23 24 42 48 53, Mega Ball: 22, Megaplier: 2


(Sep 20 draw)

Sep 24

$ 227,000,000




(Sep 24 draw)

5 7 22 23 27, Mega Ball: 27


(Sep 18 draw)

Sep 21

$ 12,000,000




(Sep 21 draw)

19 23 24 28 44 45, Xtra: 4


(Sep 18 draw)

Sep 21

$ 6,500,000




(Sep 21 draw)

6 11 20 22 28 31


(Sep 18 draw)

Sep 21

$ 3,200,000




(Sep 21 draw)

3 10 15 23 45 47, Bonus: 9


(Sep 18 draw)

Sep 21

CA$ 9,000,000




(Sep 21 draw)

8 21 25 38 50, Lucky Stars: 4 8


(Sep 20 draw)

Sep 24

€ 190,000,000




(Sep 24 draw)

8 13 17 29 34 37, Bonus: 14


(Sep 18 draw)

Sep 21

€ 5,500,000




(Sep 21 draw)

1 25 28 34 39 57, Bonus: 50


(Sep 18 draw)

Sep 21

£ 10,900,000




(Sep 21 draw)

8 18 21 23 29 56, Bonus: 10


(Sep 18 draw)

Sep 21

$ 2,200,000




(Sep 21 draw)

13 14 29 34 37, Thunderball: 8


(Sep 20 draw)

Sep 21

£ 500,000




(Sep 21 draw)

18 24 34 44 46 48, Superzahl: 8


(Sep 18 draw)

Sep 21

€ 2,000,000




(Sep 21 draw)

17 21 41 48 49, Bonus: 4 8


(Sep 20 draw)

Sep 27

€ 10,000,000




(Sep 27 draw)

9 24 29 33 54, Nº Clave: 3


(Sep 15 draw)

Sep 22

€ 5,400,000




(Sep 22 draw)

10 20 29 30 33 41, Complementario: 24, Reintegro: 5


(Sep 19 draw)

Sep 21

€ 8,000,000




(Sep 21 draw)

3 5 6 16 36, Numéros Chance: 10


(Sep 18 draw)

Sep 21

€ 17,000,000




(Sep 21 draw)

3 14 17 28 30 36 40, Supplementary: 25 32


(Sep 17 draw)

Sep 24

AU$ 15,000,000




(Sep 24 draw)

4 5 8 17 18 26, Powerball: 31


(Sep 19 draw)

Sep 26

AU$ 3,000,000




(Sep 26 draw)

38 50 53 56 65 76, Jolly: 86 12


(Sep 19 draw)

Sep 21

€ 6,600,000




(Sep 21 draw)

4 11 16 22 29 33


(Sep 18 draw)

Sep 21

R$ 120,000,000




(Sep 18 draw)
Lottery Site Detalis
Support: Live Chat
Support:

[email protected]
Support: Online Contact Form
Support: +525547772359
Support: +442031399052
Support: 01800 0990538
Lottery Site Detalis
Support: Live Chat
Support:

[email protected]
Support: Online Contact Form
Support: +525547772359
Support: +442031399052
Support: 01800 0990538